This month, WCUI is celebrating 5 years of a wonderful partnership with Peoria MET Academy! Five years ago, Peoria MET brought their first class of medical students to WCUI's original WCUI Phoenix campus to take a tour of our medical imaging labs. Since then, WCUI has hosted field trips for Peoria MET's medical students to visit our campus. During the visits, students tour our labs and get a first-hand experience of what it takes to become a sonographer, MRI technologist, and nurse.
Our Partnership 
Throughout the years, WCUI has donated ultrasound machines to Peoria MET. The ultrasound machines allow their class of over 50 medical students a chance to learn the basics of ultrasound while completing their high school education. By receiving this hands-on experience, Peoria students are able to discover all aspects of the medical field including the exciting field of medical imaging!
During our five-year partnership, WCUI has provided student volunteers to help train Peoria's students and sometimes their other faculty members on the donated ultrasound machines, sharing the amazing feat of seeing with sound.
New Donations & A Tour of the New Campus
In February 2021, we had the opportunity to donate four more ultrasound machines to continue to support Peoria MET programs. After a year of canceled field trips, Peoria MET's Medical Strand Instructor, Kathy Kasney, and two MET students took a tour of the brand new Phoenix campus.
During their visit, Kathy and her students presented the WCUI Phoenix campus with a signed poster and student-made, machine etched tokens of appreciation featuring their logo and ours. A wonderful heartfelt gesture that symbolizes our collaboration with them over the years.
Kathy and her students were able to learn more about our new Practical Nursing program and meet with our Director of Practical Nursing Catherine Jagos. Catherine invited Kathy and her students to practice a few nursing skills in our brand new nursing simulation lab!
We are thrilled to continue this partnership with Peoria MET. Together we help their students gain knowledge and skills to pursue their goals of becoming our future healthcare professionals.
About Peoria MET
Peoria MET is a local Arizona Profesional Academy whose programs allow students to realize their strengths and passions by exploring potential science, engineering, technology, and math (STEM) professions. The MET Professional Academy is designed to motivate students by treating them as working professionals. The programs prepare them for post-secondary education and careers in high-demand STEM fields. You can learn more about Peoria MET by visiting their website (www.peoriaunified.org/MET) and following them on Facebook (@PeoriaMET)and Instagram (@peoriaunifiedmet).
Dear WCUI Community:  
We have created a Coronavirus web page for all our web sites: wcui.edu/coronavirus and we will be updating this page as we receive new information.  
We encourage WCUI students, faculty and staff to check this page routinely for updates.  
As the coronavirus has begun to make a presence in the US, we want to provide some education on the virus and the best means of protection. At WCUI, the health and safety of our students, staff, faculty, and community is crucial and we are monitoring the coronavirus situation carefully. New information about the coronavirus is being updated daily and sometimes hourly on the CDC website. For the most up to date news on the situation please visit: CDC Website
What is the Coronavirus (COVID-19)?
COVID-19, more commonly known as the coronavirus, is a respiratory illness that can spread from person to person. The virus is a novel coronavirus that was first identified during an outbreak investigation in Wuhan, China. Similar to influenza, the people who are most likely to have severe disease and complications from COVID-19 are older individuals (>60 years old) and those with other medical conditions like heart and lung disease or diabetes. 81% of people diagnosed with COVID-19 in China had mild disease, including most children. 
What are the symptoms?
Current symptoms reported for patients with coronavirus have included mild to severe respiratory illness with:
Fever
Cough
Difficulty breathing/Shortness of breath.
Many patients with severe complications from the virus have developed pneumonia in both lungs.
How Does it Spread?
According to the CDC, person-to-person is the most common way the coronavirus spreads, similar to a cold or the flu. This can happen:
Between people who are in close contact with one another (within about 6 feet).
Or through respiratory droplets produced when an infected person coughs or sneezes. These droplets can land in the mouths or noses of people who are nearby or possibly be inhaled into the lungs.

People are thought to be most contagious when they present the most symptoms or are the sickest.

 

Some spread of the virus might be possible before a person has symptoms; there have been reports of this with COVID-19, but this is not thought to be the main way the virus spreads. 

It may be possible that a person to contract the disease by touching a surface or object that has the virus on it and then touching their own mouth, nose, or possibly their eyes, but this is also not thought to be the main way the virus spreads.
How do I protect myself from COVID-19 (Coronavirus)?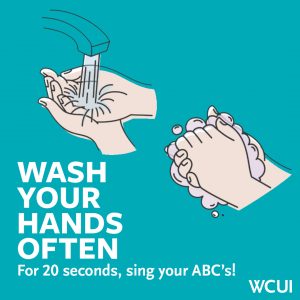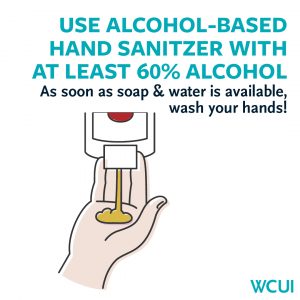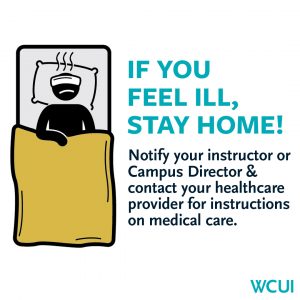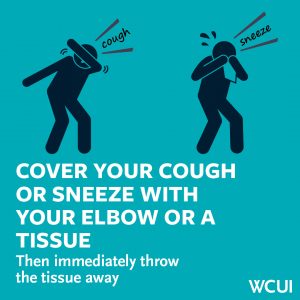 Wash your hands OFTEN with soap and water for at least 20 seconds.

Especially after going to the bathroom, before eating, and after blowing your nose, coughing, or sneezing. To make sure you are washing your hands with soap and water for at least 20 seconds, sing the ABC's slowly!

If you are not able to wash your hands, use an alcohol-based hand sanitizer that contains at least 60% alcohol until soap and water are available to wash your hands.

Check the label on the back of your hand sanitizer and make sure there is at least 60% alcohol in the ingredients.
Make sure to rub the hand sanitizer into your hands for 20 seconds until it is absorbed and dry.

STAY HOME if you feel sick! Do NOT go to work or to class.

If you become ill, contact your healthcare provider for instructions on medical care and notify your instructor or Campus Director:

Avoid close contact with people who are sick. Stay at least 3-6 feet away from anyone showing signs of illness.

Avoid touching your eyes, nose, and mouth.

Cover your cough or sneeze with your elbow or a tissue and immediately throw the tissue in the trash.

Clean and disinfect frequently touched objects and surfaces using a regular household cleaning spray or wipe.
Travel
We recommend that WCUI students, faculty and staff refrain from non-essential travel, including business or personal, to international and local areas which the CDC has determined to have experienced a "widespread sustained(ongoing) and sustained(ongoing) community transmission" of the COVID-19. If you travel to an area that had previously or during the course of your travels becomes an area of widespread sustained or sustained community transmission, you will be required to self-quarantine for 14 days following your return home by WCUI. For a list of countries with travel advisories, visit travel.state.gov and the CDC website.
Students who self-quarantine as a result of travel to impacted countries will be excused from classes during this period. However, as WCUI School of Medical Imaging and Nursing remains operating as normal, these students will be expected to complete their coursework upon their return. 
Students who have or are going to travel must contact your Campus Director:
Your Health Is a Priority!
We want to make sure everyone at WCUI is healthy and safe. Since we are also in peak flu season it is important to take precautions and take care of your hygiene and health. Wash your hands with soap and water frequently, avoid touching your eyes, nose, and mouth, and STAY HOME if you feel ill. If you become sick, contact your healthcare provider before going to the hospital/clinic and discuss your symptoms. It is crucial to take care of yourself or you could risk worsening your symptoms or infecting others with the flu and other respiratory illnesses. If you have any questions about missing classes or labs due to illness, please contact your instructor or your Campus Director. 
For more resources about the Coronavirus (COVID-19) and protecting your health and those around you, please visit:
The World Health Organization: https://www.who.int/emergencies/diseases/novel-coronavirus-2019/advice-for-public
The Centers for Disease Control and Prevention: https://www.cdc.gov/coronavirus/2019-ncov/index.html
Helpful documents and videos: 
What you need to know about coronavirus disease 2019 (COVID-19)
What to do if you are sick with coronavirus disease 2019 (COVID-19)
World Health Organization (WHO) – What is Coronavirus Video
Last Friday, WCUI has the honor of sponsoring a March of Dimes Healthy Moms and Strong Babies Arizona event alongside Samsung and Sage Therapeutics. The event included a ceremonial SB1040 bill signing with AZ Governor Ducey, which established an advisory committee on maternal fatalities and morbidity to recommend improvements to information collection concerning the incidence and causes of maternal fatalities and severe maternal morbidity.
WCUI's Susan Ciardullo, Sophia Perkovich, Michael Lajoy, Colleen Castillo, and Andrew High joined Dr. Rahul Gupta the National Chief Medical Officer of March of Dimes, Michael Simoni, the Arizona Executive Director of March of Dimes, Breann Westmore, the March of Dimes Director for Advocacy and Government Affairs, Dr. Edmond Baker of Luke Virtual Healthcare and WCUI Program Advisory Committee member, and Senator Kate Brophy-McGee, the chairwoman of the Senate Health Committee who sponsored the SB1040 bill signed by AZ Governor Ducey on Friday, June 21st.
WCUI has worked hard alongside March of Dimes and fellow bill supporters since Lobby Day in February to gain support and awareness for SB1040, also known as Arianna's Law. WCUI is proud to have been a part of the fight for the health of all moms and babies. We would like to thank everyone for the support and thank you to March of Dimes for putting together such a special event!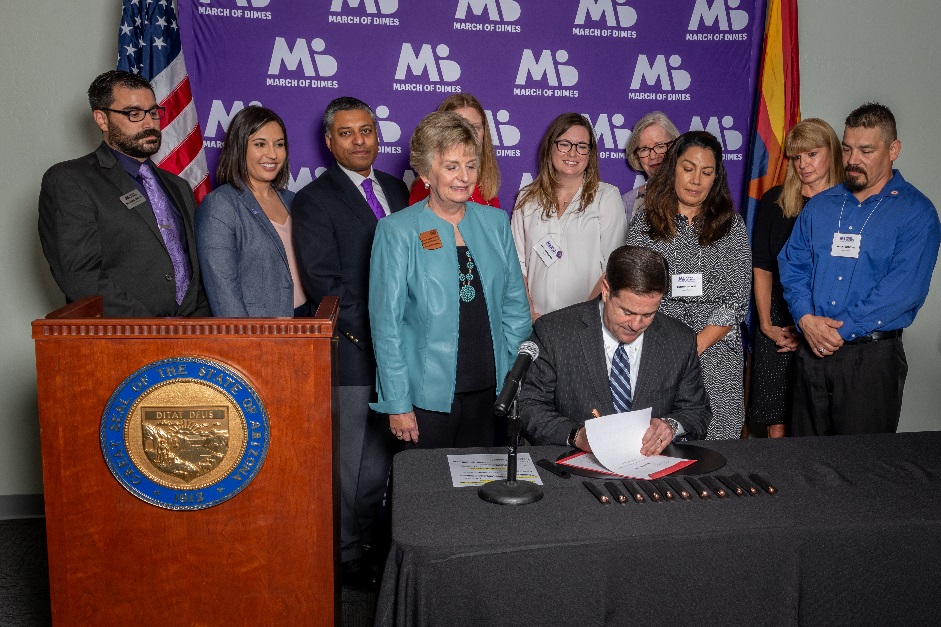 For more information on the March of Dimes "Healthy Moms and Strong Babies" event and Arianna's Law follow the links to the media coverage from the event:
In a recent Gallup poll, nurses ranked #1 for honesty and ethics 17 YEARS IN A ROW! 84% of Americans surveyed rated the honesty and ethics of nurses as very high or high among a diverse list of professions.
"Nurses are the rare professionals who invest their mind, body and spirit into caring and advocating for others every day of their career. Congratulations to my peers, colleagues and every nurse in the industry." said Holly Carlson, MS, RN, CCRN, SME writer, clinical nursing, at Relias.
About the Gallup Survey
Since 1976, Gallup has been conducting surveys to measure the public's views on a wide variety of professions' level of honesty and ethical standards. Throughout the years, nurses have remained at the top of the list, maintaining the public's trust. With the exception of 2001, where firefighters ranked highest after 9/11, nursing continues to outpace other professions since it was added to the list in 1999.
Nurses in the News
The results of the Gallup survey come as no surprise. Nurses are constantly in headlines for their compassion and heroics. A quick google search and you'll find headlines like:
"Huntsville Nurse Surprised With Army Honor"  – Olivia Parsons, worked with the Red Cross to get a soldier home from overseas to see his dying mother.

"Nurse Helps Prevent House Fire During New Year's Eve Celebrations"  – A nurse, who doesn't want any credit, may have prevented a house fire.

"Heart Hero: Cato Nurse Receives Red Cross Award For Saving Man's Life" –  Freeborn saved a man who went into cardiac arrest along with three other nurses who happened to be nearby. For their effort the were honored at the 20th annual Real Heroes Breakfast by the American Red Cross of Central New York in December.

"Shore Medical Center Names Marmora Nurse Guardian Angel of Month" – Shore Medical Center recognized float team nurse Courtney Gambino-Quinn, RN, as its December 2018 Guardian Angel of the Month for providing passionate and exceptional care to Shore's patients. 
And the list goes on! Compassion and respect has always been at the core of nursing.
"In general, nurses enter the profession because they want to help people," said Maria Morales, MSN, RN, CPAN, director of clinical education and content at Relias. "Many had a personal or family experience that inspired them to enter healthcare to assist others through health situations. One typically does not enter the nursing field for fame or fortune, but rather as a way to serve others. It's heartwarming to see how the public respects and honors the servant leadership of nurses."
Congratulations Nurses!
Congratulations to all aspiring and established nurses in the field! WCUI salutes you and your continued ability to lead with honesty, care, and humanity!
To see the full Gallup Survey visit: https://news.gallup.com/poll/1654/honesty-ethics-professions.aspx