WCUI's CURRENT CALIFORNIA NCLEX PASS RATE AT OUR LOS ANGELES CAMPUS IS 94.44%* AND 88.10%* AT OUR ONTARIO CAMPUS!
*Current NCLEX Quarter Rates up through Qtr3 2020. Please see www.bvnpt.ca.gov for per campus rates
Our Vocational Nursing program will prepare you as an entry-level healthcare provider who is responsible for rendering basic nursing care and start your career as a Licensed Vocational Nurse. The 15-month program combines theory, technical skills, pharmacology, NCLEX preparation, and off-site clinical nursing experience which will provide you with the skills and competencies you'll need to start your career as a Vocational Nurse.
The demand for nurses continues to grow and our goal is to provide you the education you need to meet that demand and make a difference in your community.
WHY WCUI?
Our Vocational Nursing Program integrates heavy preparation for you to sit for the California NCLEX exam.
WCUI's current California NCLEX Pass Rate is 94.44%* at our Los Angeles Campus and 88.10%* at our Ontario Campus!
Gain knowledge from experienced nursing professionals.
Flexible schedules to fit any lifestyle.
Receive hands-on experience in off-site hospital/clinical sites while completing the program.
Our Vocational Nursing program is approved by the Board of Vocational Nursing and Psychiatric Technicians (BVNPT)
Scholarships and Financial Aid Available**
**To those who qualify
WHAT YOU'LL LEARN
Students in our LVN diploma program will learn the following:
Fundamentals of nursing, including anatomy and physiology of the human body
Medical and surgical nursing and pharmacology
Identification, treatment, and prevention of communicable diseases in patients
Human growth and development
Maternity and pediatric nursing
Psychology, gerontology, and rehabilitation
Leadership and management
Transition to practice
PREPARE FOR YOUR CAREER
Our Vocational Nursing diploma program will prepare you to take your NCLEX exam, which is required to enter the workforce as an LVN. Information regarding the NCLEX passage rates for WCUI School of Nursing graduates can be found here.
WCUI's Vocational Nursing program only leads to licensure in the state of California
ONLINE PROGRAMS
Due to COVID-19, WCUI wants to ensure your education journey isn't interrupted, and for that reason, we are now bringing our engaging classrooms, labs, and NCLEX preparation directly to your home. Online learning, simulation, and on-campus lab with limited numbers and PPE are now available so you can continue your nursing education online and become the nurse you want to be.
Our Admissions and Financial Aid team are bringing the enrollment process to you! To guarantee the safety of you and our staff, WCUI has virtual appointments available so you can learn more about our nursing programs and funding your education.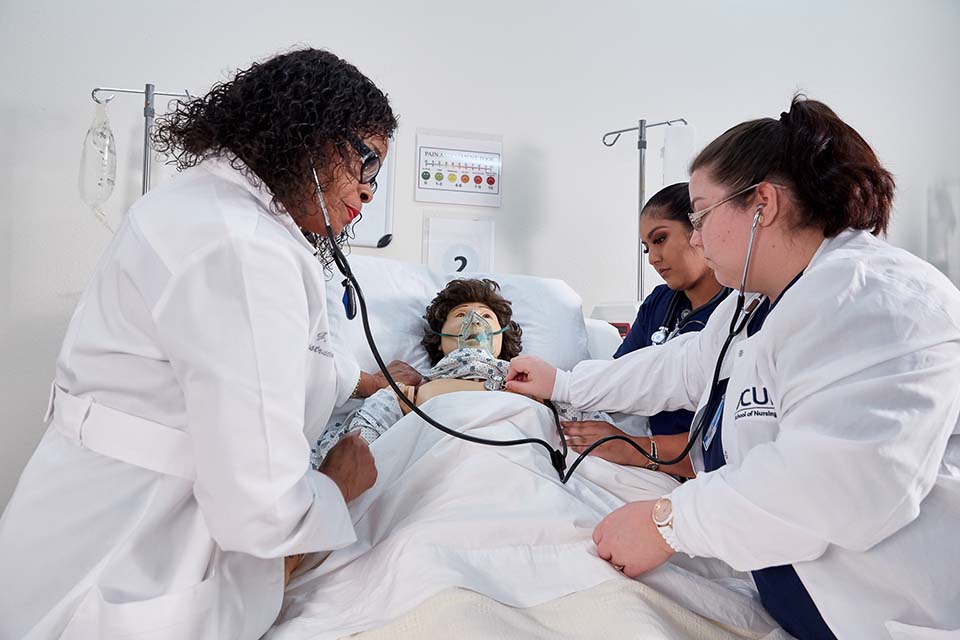 TAKE THE NEXT STEP
If you have a passion for healthcare, an interest in working hands-on with people, and a drive to make a difference in people's lives you have the qualities needed for a future Licensed Vocational Nurse. Meet the demand and enroll today!
Find the information you need to apply to the WCUI School of Nursing on our Admissions Page or connect with our admissions team by clicking the button below and they'll walk you through the process.