This month, WCUI is celebrating 5 years of a wonderful partnership with Peoria MET Academy! Five years ago, Peoria MET brought their first class of medical students to WCUI's original WCUI Phoenix campus to take a tour of our medical imaging labs. Since then, WCUI has hosted field trips for Peoria MET's medical students to visit our campus. During the visits, students tour our labs and get a first-hand experience of what it takes to become a sonographer, MRI technologist, and nurse.
Our Partnership 
Throughout the years, WCUI has donated ultrasound machines to Peoria MET. The ultrasound machines allow their class of over 50 medical students a chance to learn the basics of ultrasound while completing their high school education. By receiving this hands-on experience, Peoria students are able to discover all aspects of the medical field including the exciting field of medical imaging!
During our five-year partnership, WCUI has provided student volunteers to help train Peoria's students and sometimes their other faculty members on the donated ultrasound machines, sharing the amazing feat of seeing with sound.
New Donations & A Tour of the New Campus
In February 2021, we had the opportunity to donate four more ultrasound machines to continue to support Peoria MET programs. After a year of canceled field trips, Peoria MET's Medical Strand Instructor, Kathy Kasney, and two MET students took a tour of the brand new Phoenix campus.
During their visit, Kathy and her students presented the WCUI Phoenix campus with a signed poster and student-made, machine etched tokens of appreciation featuring their logo and ours. A wonderful heartfelt gesture that symbolizes our collaboration with them over the years.
Kathy and her students were able to learn more about our new Practical Nursing program and meet with our Director of Practical Nursing Catherine Jagos. Catherine invited Kathy and her students to practice a few nursing skills in our brand new nursing simulation lab!
We are thrilled to continue this partnership with Peoria MET. Together we help their students gain knowledge and skills to pursue their goals of becoming our future healthcare professionals.
About Peoria MET
Peoria MET is a local Arizona Profesional Academy whose programs allow students to realize their strengths and passions by exploring potential science, engineering, technology, and math (STEM) professions. The MET Professional Academy is designed to motivate students by treating them as working professionals. The programs prepare them for post-secondary education and careers in high-demand STEM fields. You can learn more about Peoria MET by visiting their website (www.peoriaunified.org/MET) and following them on Facebook (@PeoriaMET)and Instagram (@peoriaunifiedmet).
WCUI is excited to formally introduce you to the newest member of the WCUI School of Nursing team, Catherine Jagos, MSN-Ed, BSN, RN! Catherine Jagos will be leading the new Practical Nursing program starting this July at the new Arizona campus in Midtown Phoenix as the Director of Practical Nursing. Catherine has a multitude of educational and real-life experiences to share with our students and faculty.
MEET CATHERINE JAGOS, MSN-Ed, BSN, RN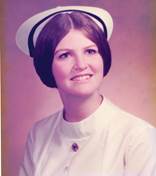 Catherine Jagos brings over 40 years of nursing experience to her Director of Practical Nursing position. In 1972, she earned her diploma in nursing at Hurley School of Nursing then worked as a Psychiatric Nurse for one year before moving to Midland, Michigan in 1973. There she was a full-time Emergency Nurse for 32 years and a part-time shift administrator for a 200-bed hospital. Responsibilities during that time included orienting all new nurses into the emergency department (ED), teaching, as well as, mentoring EMTs and paramedics. She enjoyed precepting nursing students from local Nursing programs and colleges. 
Catherine graduated from Graceland University with a BSN in Nursing in 1994.  A year later in 1995 while still working full-time in the emergency department, she began teaching Nursing Pharmacology at Delta College in Saginaw, Michigan. In addition, she taught Basic Life Support, Pediatric Life Support, Advanced Life Support, Neonatal Life Support, Emergency Nurses Pediatric Course, Advanced Trauma Life Support, Emergency Nurses Trauma Course and Prehospital Life Support throughout the state of Michigan.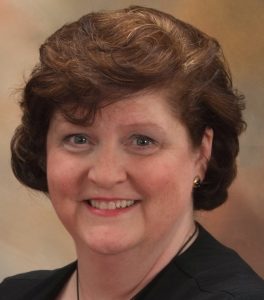 In 2005, Catherine moved to Arizona where she was employed at Mercy Gilbert Medical Center in the role of Clinical Educator for the Emergency Department.  During that period, she continued her nursing education and attended Grand Canyon University where she earned her Master's Degree in Nursing Education with an emphasis in Simulation. Using her knowledge in simulation, she was part of the group that started and organized the simulation lab for Mercy Gilbert Regional Medical Center and Chandler Regional Medical Center. As a part of her success, she was published in the textbooks for Emergency Nurses Trauma Course and the Geriatric Emergency Nurses Education in 2014.
In 2014, Catherine retired from Mercy Gilbert but was persuaded to help teach at East Valley Institute of Technology Simulation Lab. This progressed to teaching an entire class to then becoming the Director of the Practical Nursing Program. In 2019, she left East Valley Institute of Technology (EVIT) to work for WCUI as the Director of the new Practical Nursing Program where she continues to enjoy the challenge of building a new program using the high standards of WCUI.
WELCOME TO WCUI, CATHERINE!
WCUI is thrilled to have Catherine Jagos as a fundamental part of our goal to bring educated and prepared nurses to the State of Arizona. WCUI School of Nursing is enrolling now for a July start for our Practical Nursing Program at our Phoenix campus! To learn more, connect with our admissions team by filling out the form HERE. 
Contact the Phoenix Admissions Team:
Email: ph.admissions@wcui.edu
Phone: (602) 954-3834
WCUI is launching a Practical Nursing program that has been built for the next generation of Arizona Practical Nurses! In March, WCUI School of Nursing completed the approval process to offer a Practical Nursing diploma program at our Phoenix, Arizona campus. We are now accepting applications for an anticipated July 2020 start at our new campus in Midtown Phoenix. 
"The spread of COVID-19 is demonstrating the need for a strong nursing workforce more than any event in recent history." Myra Chason, BSN, CEO and Owner of WCUI stated.  "WCUI School of Nursing is excited to introduce the Practical Nursing Program and classes will start in July of this year. Phoenix needs Practical Nurses and we are proud to provide their education." 
The WCUI Practical Nursing program is a 12-month, 3 day a week diploma program that will prepare students to advance their nursing career and meet the growing demand for nurses in the field. The program combines theory, technical skill, biology, pharmacology, simulation labs, NCLEX preparation, and off-site clinical experiences to provide students with the skills and competencies they need to start their career as a Practical Nurse.
The Practical Nursing program is a great opportunity for those who have healthcare experience as a CNA/ LNA, MA, EMS, or more and are looking to further their healthcare journey in the nursing field.
To learn more about WCUI School of Nursing's program and admissions requirements for the Practical Nursing program, please visit: https://nursing.wcui.edu/practical-nursing-program/
Why WCUI?
Our Practical Nursing program has been approved by the Arizona Board of Nursing (AZBN).
Flexible schedules to fit any lifestyle. Classes and labs are held 3 days a week to help you maintain the work/life balance you need while you pursue a career in nursing.
Gain knowledge from experienced nursing professionals.
Our Practical Nursing program prepares you to sit for the NCLEX exam, which is required to enter the workforce as an LPN.
Receive hands-on experience in simulation lab and off-site clinical sites while completing the program.
WCUI School of Nursing Programs
The Practical Nursing program joins WCUI School of Nursing's Vocational Nursing program offered at our California campuses in Los Angeles and Ontario. Our California Vocational Nursing program has produced successful graduates for almost 10 years! WCUI's Vocational Nursing program's current California NCLEX-PN pass rate is 86.67% at our LA campus and 89.47% for the Ontario campus. To learn more about the WCUI School of Nursing and all our nursing programs, please visit nursing.wcui.edu
To see the full press release about WCUI's brand new Practical Nursing program, follow the link here: LPN in AZ Press Release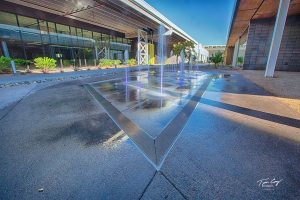 WCUI is excited to announce that in Summer 2020, after 10 years at our current location our Phoenix campus will be moving to the new Park Central development! The new campus is being built to suit and will be developed as part of the new Park Central project in the heart of the Bioscience HealthCare District in Phoenix. The new campus is only 6.7 miles from the current WCUI Phoenix location and will provide its students and employees a fresh new look and accessible community.
New Location Address: 3110 North Central Avenue Suite L150 Phoenix, AZ 85012.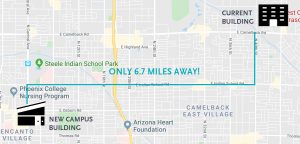 WCUI's new Phoenix campus will be contiguous on one floor, with high modern ceilings featuring an expanded ultrasound lab and brand-new nursing simulation and skills laboratory. A new student lounge and expansive outdoor space will provide a relaxing area for students to study, unwind between classes, and connect with their colleagues promoting a stronger community culture on campus. Nine current on-site dining areas will provide students, employees, and WCUI visitors a variety of restaurants to dine during their time on the grounds. Students, employees, and visitors will also have the option of parking in the onsite parking garage or utilizing the light rail that can be accessed at the front of the WCUI campus building.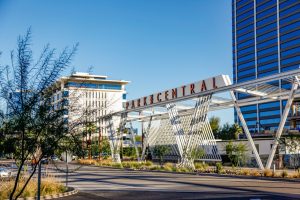 The location of the new campus in the Bioscience HealthCare District will immerse WCUI and its students in the developing healthcare community and major medical locations such as, Creighton University, who is building their new Health Science campus at Park Central and is scheduled to open in 2021, Dignity Health-St. Joseph's Hospital and Medical Center, Banner Health, Phoenix Children's Hospital, and more.
"Park Central is an ideal location for WCUI because of its accessible location and proximity to exceptional medical facilities," said Andrew High, Chief Operating Officer of WCUI. "Park Central will help WCUI create a great learning environment for our students in a central area of Phoenix with excellent walkable amenities. At Park Central, WCUI will be positioned to attract top talent in order to provide a constantly improving experience for our students. We were attracted to the project's energy, proximity to medical facilities and outdoor spaces and we look forward to being part of Park Central for many years to come."
WCUI strives to promote a culture of support through our education, student resources, and dedicated staff. We know this new location will allow us to continue this mission and create the best learning environment as you pursue your passion and career. We are thrilled for this new opportunity and everyone at WCUI is on deck to help potential, current, and past students adjust to this exciting new phase. Enrollment for all upcoming terms will continue without interruption and we will be here to answer any and all questions you may have. New applicants are welcome to meet with our Phoenix admissions team for further details about the new campus and our programs.
All classes and operations at the new location will begin this summer for the start of the WCUI Summer quarter beginning June 29, 2020.
For further questions, comments, or concerns about the new WCUI Phoenix campus, please contact Phoenix Campus Director, Sophia Perkovich at sophia.perkovich@wcui.edu
For further details about the Park Central development project in Phoenix, AZ please visit their website: www.parkcentralphoenix.com
News Articles about the new development and WCUI's move: https://azbigmedia.com/real-estate/big-deals/wcui-school-of-medical-imaging-and-nursing-moving-into-park-central/
Last Friday, WCUI has the honor of sponsoring a March of Dimes Healthy Moms and Strong Babies Arizona event alongside Samsung and Sage Therapeutics. The event included a ceremonial SB1040 bill signing with AZ Governor Ducey, which established an advisory committee on maternal fatalities and morbidity to recommend improvements to information collection concerning the incidence and causes of maternal fatalities and severe maternal morbidity.
WCUI's Susan Ciardullo, Sophia Perkovich, Michael Lajoy, Colleen Castillo, and Andrew High joined Dr. Rahul Gupta the National Chief Medical Officer of March of Dimes, Michael Simoni, the Arizona Executive Director of March of Dimes, Breann Westmore, the March of Dimes Director for Advocacy and Government Affairs, Dr. Edmond Baker of Luke Virtual Healthcare and WCUI Program Advisory Committee member, and Senator Kate Brophy-McGee, the chairwoman of the Senate Health Committee who sponsored the SB1040 bill signed by AZ Governor Ducey on Friday, June 21st.
WCUI has worked hard alongside March of Dimes and fellow bill supporters since Lobby Day in February to gain support and awareness for SB1040, also known as Arianna's Law. WCUI is proud to have been a part of the fight for the health of all moms and babies. We would like to thank everyone for the support and thank you to March of Dimes for putting together such a special event!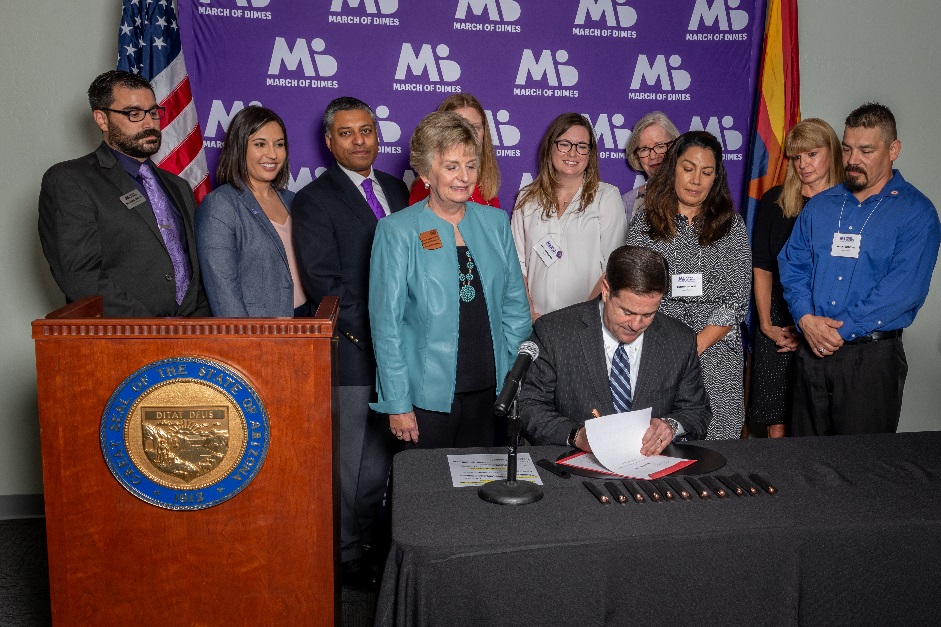 For more information on the March of Dimes "Healthy Moms and Strong Babies" event and Arianna's Law follow the links to the media coverage from the event: