WCUI Alumni, Chandler Dixon, Wins 2019 ACCSC Outstanding Graduate Award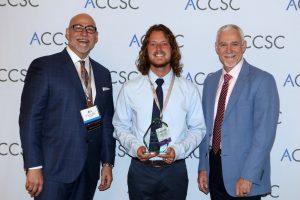 Earlier this year, WCUI's own alumni, Chandler Dixon, was nominated and awarded the 2019 ACCSC "Outstanding Graduate" Award. Every year ACCSC receives submissions from hundreds of accredited member schools for graduates working in the same field as the program from which they graduated and have made an outstanding contribution to their profession. As a 4.0 GPA graduate from the Cardiovascular Sonography program at Ontario who has made significant strides in the cardiovascular sonography field since graduation, Chandler Dixon hit all the marks and was selected as this year's Outstanding Graduate recipient.
WHAT IS THE ACCSC AND THE OUTSTANDING GRADUATE AWARD?
ACCSC is recognized by the United States Department of Education as the designated institutional accrediting body for over 650 post-secondary, trade and technical schools, including all three WCUI School of Medical Imaging and Nursing campuses.
Each year, ACCSC formally recognizes the success and significant achievements of ACCSC-accredited institutions, and pays tribute to several outstanding, dedicated individuals. In 2017, WCUI was awarded the School of Excellence award for demonstrating a high level of achievement among our students and a commitment to the accreditation process. That same year, WCUI's Phoenix campus was awarded the Excellence in Community Service Award for their outstanding contributions to their local community through service initiatives.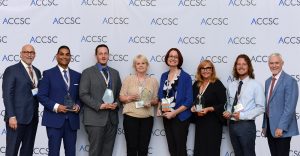 In 2019, WCUI Ontario graduate, Chandler Dixon was presented with the "Outstanding Graduate" award. The Outstanding Graduate Award is presented to an individual who graduated from an ACCSC-accredited institution, is making outstanding contributions to his/her profession, and exemplifies what is possible through hard work, determination, and perseverance. The Outstanding Graduate Award is designed to recognize an individual who not only has demonstrated outstanding scholastic achievement, but an extraordinary commitment to his/her occupational field or community.
MEET CHANDLER DIXON
Chandler Dixon is a 2015 graduate of the cardiovascular sonography program at the WCUI School of Medical Imaging and Nursing, Ontario Campus. Chandler has accomplished quite a bit since his graduation 4 years ago, including volunteering his time and knowledge to mission programs providing healthcare in foreign countries and pursuing his career at Rady Children's Hospital in San Diego, CA.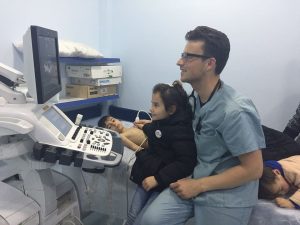 Throughout his years, Chandler has made a point to give back to other communities through the use of his knowledge and skills. He has completed several mission trips through organizations like For Hearts and Souls, the Hearts with Hope Foundation, and Samaritan's Purse where the focus was on pediatric ECHO patients. Chandler explained their goal was to screen as many children as possible and conduct as many surgeries, as needed, for these children who otherwise would not have access to this sort of healthcare in their communities. He's been to Peru, Mexico, Cuba, Kenya, and Iraq twice in pursuit of providing care to underdeveloped communities.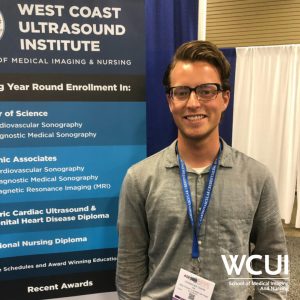 Along with his philanthropic efforts, Chandler had a podium presentation at the 2018 ASE Conference in Nashville, TN. He provided a case report over double aortic arch with bilateral aortic coarctation associated with complex atrio-ventricular canal defect and heterotaxy-asplenia syndrome. Chandler described his presentation at a conference in front of hundreds of experts in echocardiography as one of his greatest accomplishments since graduating from WCUI.
During his employment at Rady's Children's Hospital in San Diego, CA he has begun working on a 3D ECHO program for heart disease along with few journals on abnormal case studies that he hopes to have published in the near future. His experience proves that even after graduation your education never ends, especially in the medical field.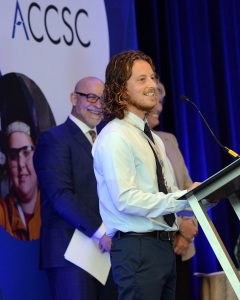 Chandler Dixon has had a lot of success not only as a student but as a cardiovascular sonographer. He has gone on to make a significant impact on the medical imaging field through his support of research and advancements in the cardiovascular sonography field. He has also continued to support WCUI by meeting with WCUI leaders to inspire and share his experience with WCUI affiliate members, other WCUI alumni, and current and future WCUI students.
HOW HAS WCUI SCHOOL OF MEDICAL IMAGING AND NURSING SHAPED HIS CAREER?
Chandler Dixon described his time at WCUI as the foundation of his knowledge in echocardiography. He explained that WCUI gave him the building blocks necessary to push, go above and beyond, and become really involved in his education.
For Chandler, WCUI provided the tools he needed to succeed. In his own words, "All the tools are there. Just pick up a fork and eat!"
When we asked Chandler Dixon what advice he had for current and future students at WCUI he said it best:
"If you don't care about people, don't be a cardiovascular sonographer. Money is not worth it if you don't care. If you want to make a difference in lives of patients and your community then do it! Study really hard. Not just for yourself, but the people you're going to help. Ask yourself 'When I'm old and sick would I want someone like me taking care of me?'"
At WCUI our goal is to do everything we can for our students and create an authentic investment in the next generation of healthcare professionals. It gives us so much pride to have one of our many hard-working students recognized! Congratulations to Chandler Dixon on his many accomplishments and his new role as ACCSC's 2019 "Outstanding Graduate"!
Learn more about our Cardiovascular Sonography program!
For more information on the organizations Chandler worked with during his mission trips and donate to their causes, visit their websites here:
For Hearts and Souls: http://forheartsandsouls.org/
Hearts with Hope Foundation: http://www.heartswithhope.org/home/
Samaritan's Purse: https://www.samaritanspurse.org/
For more information on ACCSC and their yearly awards visit: http://www.accsc.org/About-Us/ACCSC-Award-Winners.aspx
For more information on WCUI's Accreditations and Approvals visit: https://imaging.wcui.edu/admissions-financial-aid/admissions-overview/
   
WCUI Phoenix campus staff and students proudly participated in the Maricopa County Veteran "Stand Down" event for the 3rd year in a row this past January. The medical imaging and nursing school, recently awarded for its excellence in community service and quality of education by ACCSC and Forbes magazine, fielded a group of 26 amazing student volunteers, who performed an astonishing 1,035 pro bono screenings for veterans in need over two days. Combined with the help of 8 volunteer staff members, WCUI was able to contribute 288 hours of scanning hours. Veterans at the event received a blood pressure check, an ABI (ankle-brachial index), and at least one ultrasound exam – that is over 1900 medical procedures! On top of those, referrals were made to medical professionals on behalf of four veterans who were potentially in need of lifesaving care.
The school received special coverage from Channel 12 news, while the Governor's office staff spent time with students and staff in hopes of learning more about the procedures and the school that trained them – WCUI. The community is so grateful for the staff and students who made the event an overwhelming success. Special recognition is due for Susan Ciardullo, Regional Director of Career Services & Community Outreach, who has tirelessly developed school partnerships with veterans organizations like "Stand Down" and spearheaded numerous other successful community outreach projects since joining the WCUI family. Big thanks also go out to Dale for his tireless help and encouragement as well as support from the Phoenix team- George, Ryan, Steven, and Francisco were a tremendous presence there in support of the students and veterans.
Veterans "Stand Down" events are focused on helping veterans to regain their highest levels of independence, while also seeking to bring together the community and service providers in order to build relationships that can positively benefit veterans throughout the year. Ultimately, organizers of these events aim to increase awareness and gather consistent data as a manner of activating the on-going resources it will take to end veteran homelessness once and for all.
"StandDown" is a military term that refers to a brief period of time for a soldier to leave an active combat area, to rest and regain strength before returning to battle. The Maricopa County StandDown event seeks to offer a hand up to former members of the military in the Valley who now battle with homelessness, housing insecurity, and life on the streets.  The event's goals are to increase the community's awareness of the plight of the American veteran struggling to make ends meet. Over 70 service providers will be onsite to help veterans regain, and retain their independence. The event includes: Municipal and Superior Courts, a full-service Motor Vehicle Division office on-site, Social Security Administration office, multiple housing programs, VA medical, employment, and other wellness services including acupuncture and behavioral health specialists. This year, after years of hearing from veterans about the critical need for affordable dental care, AVSA is proud to partner with the Central Arizona Dental Society (CAZDS) Mission of Mercy in providing 25 full-service dental chairs.
According to the VA, access to dental care was consistently ranked by veterans experiencing homelessness as one of their top 3 unmet needs, along with long-term permanent housing and childcare. Dental issues, such as persistent pain and/or missing teeth can be tremendous barriers to seeking and obtaining employment. Studies have shown that many veterans report that after dental care they feel a significant improvement in perceived oral health, general health and overall self-esteem. Which is why we are eager to work in partnership with CAZDS Mission of Mercy to assist in meeting this growing need. 
The first Maricopa County StandDown was held in 2001 and has since grown to be the largest StandDown in the nation.  The first annual report released in 2004 showed 414 veterans received services and grew to serve 2,109 veterans in 2017, and event staff anticipates serving a similar number of veterans this year.
This fall, West Coast Ultrasound Institute (WCUI) President, Myra Chason, and Andrew High, COO, had the distinct honor of accepting not one but TWO national awards for the school at the ACCSC National Awards Banquet in Reston, Virginia. WCUI came in on top of hundreds of other institutions to take home the award for Excellence in Community Service as well as a School of Excellence Award for the Phoenix Campus. Along with the recent Forbes magazine Top 20 US Trade School Ranking, WCUI has made 2017 its biggest year yet! #WCUI2K17
FOR IMMEDIATE RELEASE
Media contact: Susan Ciardullo (602) 954-3834 or susan.ciardullo@wcui.edu
WCUI Receives 2016-17 ACCSC School of Excellence Award
PHOENIX, Arizona – July 18, 2017
The West Coast Ultrasound Institute (WCUI) campus in Phoenix has received the distinguished honor of being recognized as a School of Excellence for 2016-2017 by the Accrediting Commission of Career Schools and Colleges (ACCSC). According to the ACCSC website, the School of Excellence Award recognizes ACCSC-accredited institutions for their commitment to the expectations and rigors of ACCSC accreditation, as well as the efforts made by the institutions in maintaining high-levels of achievement among their students.
In order to be eligible for the School of Excellence title, an ACCSC-accredited institution must meet the conditions of renewing accreditation without any finding of noncompliance, satisfy all requirements necessary to be in good standing with the Commission, and demonstrate that the majority of the school's student graduation and graduate employment rates for all programs offered meet or exceed the average rates of graduation and employment among all ACCSC-accredited institutions.
WCUI-Phoenix, as well as the other 2017 Schools of Excellence, will be recognized by ACCSC at the 2017 Professional Development Conference scheduled to take place on September 25-27, 2017 in Reston, Virginia.
Campus Director George Fitzpatrick recognized the combined work of the campus faculty and staff; "It is truly an honor to be part of such a great organization and work side by side with my peers. We did this as a team!"
About the College: WCUI is a privately owned, post-secondary vocational institute.  The college offers Bachelor and Academic Associate of Science degree programs in medical imaging fields including Diagnostic Medical Sonography, Cardiovascular Sonography, and Magnetic Resonance Imaging. They also offer a vocational nursing diploma (at select campus locations), as well as a Cardiovascular Technician diploma and an advanced diploma in Pediatric Cardiac Ultrasound and Congenital Heart Disease.
To learn more about the Accrediting Commission of Career Schools and Colleges, go to http://www.accsc.org/Events/Professional-Development-Conference/Award-Winners/Schools-of-Excellence.aspx
To learn more about West Coast Ultrasound Institute go to www.wcui.eduhttp://www.wcui.edu/page/consumer-information

On a Thursday and Friday in early February, West Coast Ultrasound Institute staff from the Phoenix campus accompanied thirty ultrasound students to take part in the Maricopa County Veterans StandDown Event held at the Veterans Memorial Coliseum. Veterans who attended the event were provided medical and dental services, legal support, employment advising and a number of other benefits to help them with their ongoing transition to civilian life. WCUI students screened a total of 467 patients and performed an astounding number of exams – over 1400 in two days! As a result of these exams, 2 patients were sent to the hospital and 4 were sent to urgent care. Students representing the school were praised for their level of professionalism and clinical proficiency.
In addition to all the students' scans, the operation was well supported by stellar leadership. The Phoenix faculty and staff onsite team of Maria, Michael, Dan, Andy, Dale, and Susan was extremely helpful, while the support staff of Mary Ann, Deanna, Alleyn, Ryan, and Steven helping provide lunches and running supplies was equally invaluable. It was an amazing team-based event in which all students and staff were proud to contribute to veterans and represent our school so well in the community.
Besides contributing to veterans, the event provided clinical and volunteer experience to WCUI students while also providing help for veterans that need and deserve it for their service to our country. The faculty and staff at all three campuses are proud and appreciative of everyone's efforts at the event and continue to look for more opportunities to give back to the community in the near future.
 Deborah Lisbett Aguilar Champney is a recent Diagnostic Medical Sonography Graduate from our Beverly Hills Campus. She had a goal of being a member of a team of medical professionals on a "Medical Mission" to another country to help those less fortunate than herself and even before she graduated Debbie achieved that goal and much, much more… Below is Debbie's story.
Dreams don't just happen, we make them happen. I dreamt of becoming a Sonographer someday and being a part of a medical mission was only part of it. I wanted to be accepted as a Sonographer for a Lighthouse Medical Missions team, a non-profit that sends medical teams to other countries to provide free medical care. Well, for me that day came sooner than I had planned. The medical team would be traveling to Guatemala in late 2016. Even though I was still a student and did not graduate yet I gave it a shot. I knew my chances would be 50/50 that I would be chosen as their Sonographer. They could say no or they could light that spark of passion and choose me. The spark was lit! I became part of that important medical team and we left to Coban, Guatemala in October 2016. Four and a half days of non-stop work. Caring for over 2200 patients that were being treated by doctors, dentists and over 100 of them were for ultrasound alone. Finding pathology and seeing things I never thought I'd see was amazing. I was doing exactly what I was trained to do and I loved it. This mission let me gain both real-world experience and further ignited my passion for being a medical professional. I got to work with doctors from both the USA and Guatemala. Being able to provide them with key images so they could correctly diagnose and treat the patients made me so proud that I was helping to make a difference in their lives. This was a rewarding experience and I was blessed to be part of it. By the end of the trip, I was finally able to say mission accomplished!
Deborah Lisbett Aguilar Champney, DMS Graduate 2016
Debbie did such a great job she has been invited back for another trip to Coban this September 2017. She is now a regular member of the team. 
Congratulations Debbie. We are proud of your accomplishments and know you will go far. WCUI